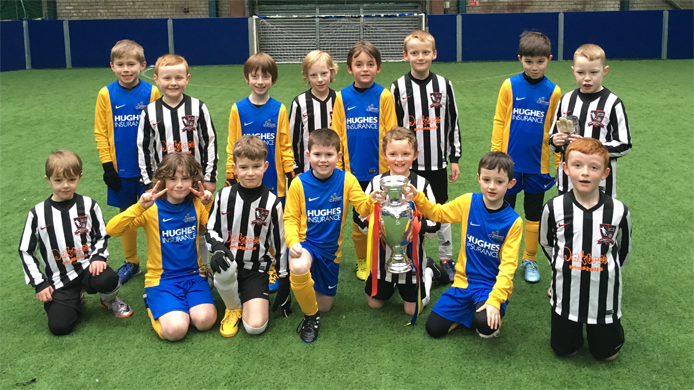 On Saturday 21st February 2016, Carryduff Jets played Glenavy Boys at Hillsborough Indoor Arena in what was a closely fought match.
Luke S, Jack V, Oliver, Jack McC, Oisin L, Luke W and Eoin all played and it was great to see the effort that the boys put in against a very good Glenavy team.
Luke S, our very own wonder keeper was outstanding in nets with spectacular save after save keeping Glenavy from scoring on many of their attacks.
Jack V and Jack McC were both rock solid in defence, tackling with great determination and as usual, breaking up many of Glenavys attacks.
Oliver had a great game in central midfield with a real box to box performance – his energy was too class and he scored some great goals!
Oisin L played in almost every position and had a great game, topped off by a fantastic goal from a penalty after being tripped up when dribbling past a few defenders.
Eoin had his best ever game for the team playing in the sole striker role with two great goals and some other great chances that the Glenavy keeper did brilliantly to save. He tackled hard from the front and caused the Glenavy defence a lot of problems with his energy and tackling.
And Luke W, our most improved player played all over the pitch in defense, midfield and attack and set up a few goals for Oliver and Eoin with some great passes.
A great performance from the boys – well done!!