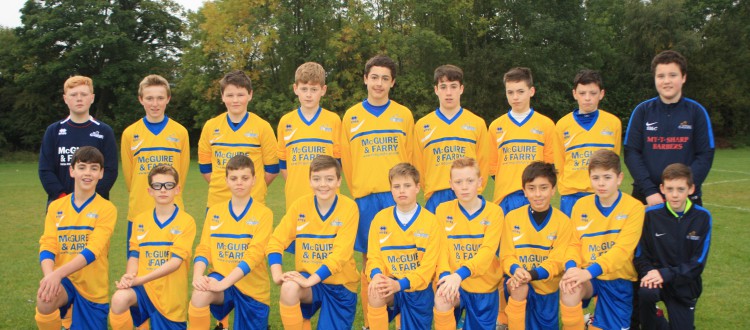 Mark Cleary (U15s)
What football team do you support?
Manchester United
Why did you start supporting them?
My cousin introduced them to me when I was little
Secret favourite other team
Sligo Rovers
Current favourite player?
Cristiano Ronaldo
All-time favourite player?
Ryan Giggs
Earliest memory of football?
Playing matches in the playground at school
Favourite pre-match meal?
Noodles
Favourite post-match meal?
Chips
Best goal you ever saw?
Wayne Rooney's overhead kick against Manchester City
Best Colts match you played in?
When I scored a hat-trick last season
Best Colts goal
When I ran from the half way with the ball and hit it past the keeper last season
Favourite Carryduff Colts moment
Drawing 2-2 with the A team in Ayr after being 2-0 down
Best achievement in football?
Man Of The Match awards
Biggest disappointment in football?
Losing to Rosario 4 times in one year especially as it was my old club
Favourite pitch to play on?
Hydebank pitches
Who do you think will win Euro 2016?
Republic of Ireland
Favourite song?
Redemption Days by Josh Osho
Person you'd most like to meet?
Cristiano Ronaldo
Most difficult opponent (Carryduff Colts)
Eoin Haigney as he always nutmegs me
Favourite training drill
Shooting practice
Least favourite training drill
Running
Likes
Football
Dislikes
Homework
Favourite food
Pizza
Favourite TV show
The Class of 92: out of their league
Favourite singer/band
Calvin Harris
Who do you think will win the premiership 2015/16
Hopefully Manchester United
Favourite joke
What does QPR stand for – Quite Possibly Relegated!