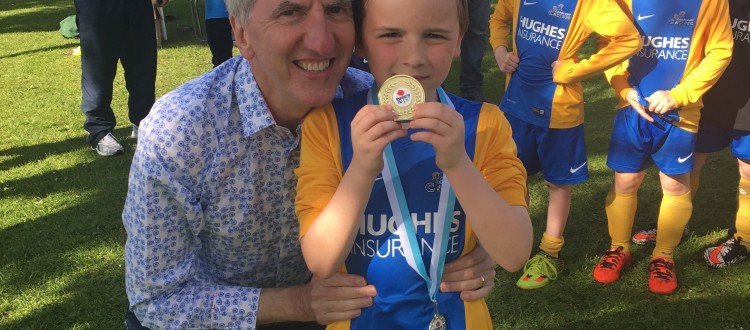 Carryduff Colts 2008s win at Rosario Mini Football Festival!
Carryduff Colts 2008 attended the Rosario Mini Football Festival, building on the recent Clonduff tournament, didn't lose a game and came back as shield winners!
The Colts team were in a group with Rosario Blue Sox, St Marys Colts, Greenisland Colts and Ardoyne Colts.
In the first game the Colts started slowly but eventually came through as 2-1 winners in a close game against a strong Greenisland Colts team. Next up was Ardoyne which was a very nervy game but one which the Colts came through as 3-0 winners. The Colts were then pitted against the tournament hosts Rosario Blue Sox and went 1-0 down early in the game but showed fantastic character to come back to draw 1-1, and almost won it with the last kick of the game. Finally, in  the last group game the Colts saw an emphatic 5-0 victory against St Marys Colts, to leave the Colts joint top of the group with Rosario Blue Sox.
The Colts were then paired in the final against Rosario Glory. With the boys still very tired on a very hot and sunny day, they kept their concentration to win 2-0 to ensure that there were was no need for any penalty shootouts.
Well done to all the 2008 Colts on their first tournament win and congratulations to Ben who won Player of the Tournament.
Player profiles
Liam – Played some matches in goal and made some great stops as well as running superbly through the midfield in his outfield games.
Oisin – Some great tackling, improving each week and picked out some great passes in the final third of the pitch.
Ben – Player of the tournament – assured and composed on the ball at all times. Ben was the rock in the heart of the Carryduff Defence.
Jack – Fantastic tackling and pressing from Jack. Great at holding off men and scored some great goals, playing in both midfield and up front.
Noah – Fantastic defending and ball winning from Noah as well as picking out some great passes with his left foot.
Rafe – Goal of the tournament with a breaking run to burst the top left corner of the net. Also very assured in goals.
Rhys – Great awareness from Rhys in midfield, always looked for the best option and a tireless worker as ever.
Wiktor – Some fantastic dribbling runs today from Wiktor, adept at beating men but with a few great passes which made some vital goals.
Thanks to Rosario for a well organised tournament and fantastic hospitality.