2009 success at Knockbreda Tournament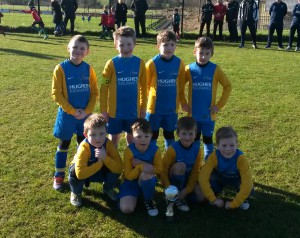 The 2009 kids took part in their first 7 a-side tournament at Knockbreda on the weekend of 4th February. It was a completely different experience for the group who have been used to playing 5 a-side games through the IFA. In what was a very strong group including Glentoran, Larne, Rosario and Oliver Plunkett there was very little between all 5 teams. The majority of games between everyone finishing goalless or won by a single goal.
Carryduff needed a penalty shootout against Larne to make it to the knockout stages with Joe, Matthew & Fintan converting in style along with a heroic save from Conor.That got us to the 3rd place semi-final against St Patricks, which the boys came through well. They had certainly got the knack of 7 a-side by now and kept their best for the last. An awesome display of attacking flair meant the Carryduff lads ran out easy winners against Cliftonville (who had beaten Glentoran in their semi).
The squad for today was Joe, Fintan, Connor, Jacob, Morgan, Sean, Mathew and Kenzie – each one magnificent through-out. The boys were a great complement to our club not just in style of play but also in the way they lined up and gave a hearty well done to the losing finalist, Cliftonville, before celebrating as a group. This group played the Carryduff way, always passing out from the back, despite being pressured and rotating players around into all position.
A great day with a great outcome both for trophies and most importantly development!