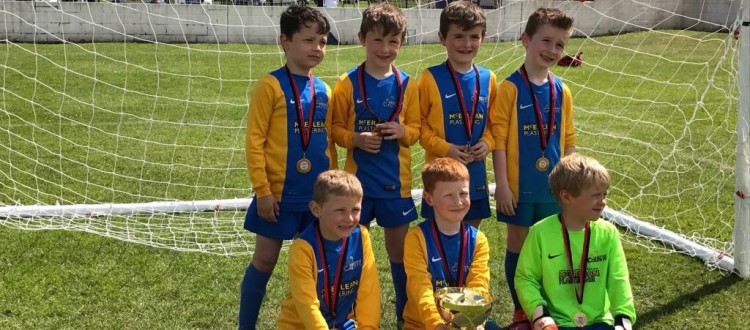 Killyleagh 2010 Tournament Winners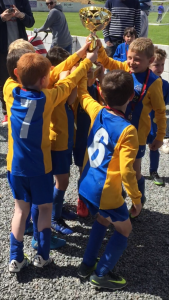 Drawn in a very competitive group the boys finished as group runners up remaining undefeated throughout the group stages.  We started with a hard fought draw against a very good East Belfast team, followed by a narrow win against a strong and determined Castle Juniors team.  The boys then had another hard fought draw against Carnmoney who's goal keeper was outstanding.  Down to the last group game and we were left in a position where we had to match or better the other group game.  Again the boys started well against a very good and skilful Bangor YM team.  Bangor went 1 nil up early on but the boys didn't allow their heads to drop and fought back to get a well-deserved draw with a wonderful goal in the last minute.  That goal meant that we matched the other group game result, meaning that we progressed into the Semi-final having come second in our group.
The Semi-final was against a well organised and strong Oliver Plunkett's who ran out winners of their group to reach the semi. Our match was again a hard fought contest with both teams on top of their game. Despite some good chances for both teams the game ended up nil, nil and we went into the dreaded penalty shoot-out. Credit to the boys who converted all three pens with our keeper pulling off a wonderful save to send us into the final.
The final was a rematch of our last group game against Bangor YM. The game started well for both teams with some great defending, passing, dribbling and shooting from both.

Evenly matched for the first few minutes Bangor broke away and converted a great goal.  Again credit to the boys, like the group game they didn't let their heads drop and went up field to score two goals to run out eventual overall winners.
The boys are a credit to themselves and their families and should be very proud of themselves.  The squad today was James, Ben, Zak, Alfie, Rowan, Ronan & Senan.  Well done boys.