Riah Hair & Beauty sponsor Colts 2011s
Carryduff Colts 2011's unveiled their new strip kindly sponsored by Riah Hair and Beauty who are situated on the Ormeau Road.
The squad would like to thank our friends at this award-winning salon for their generosity.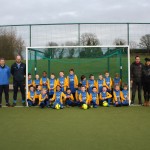 The team celebrated with a festival of football up in Loughmoss on Sunday morning with 60 kids getting game time between Rosario, Santos and ourselves.