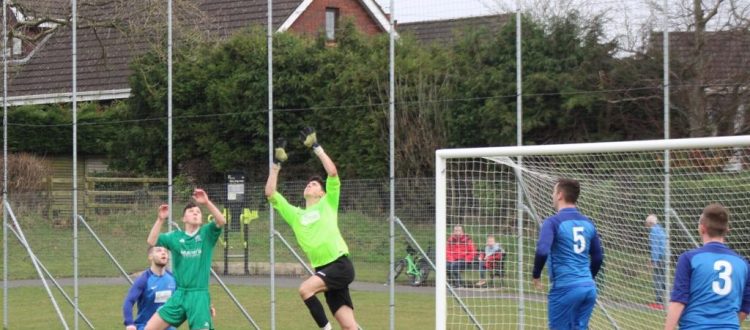 Firsts claim famous win in the Clarence Cup 
Carryduff Colts 3 – 1 Downpatrick FC
Right from the first whistle The Colts hustled and harried this young 1A team.
Good play from Turkington into the feet of Brownlee who put an excellent ball into the channel for McNally who crossed for Sherry but was cut out by a good defensive tackle.
Yet again there was good work by Sherry and Brownlee to set up McNally who burst through Downpatricks defence and coolly slotted home past the away teams keeper 1-0 to The Colts and fully deserved.
McBride and Murphy who was playing in a central midfield roll were bossing the Downpatrick midfield and McBride had a great tussle with their No.6 who was an excellent player.
Defensively in the first half Sweeny Bracken McDonnell and Turkington coped well with most things that was thrown at them.
However McCann in goals pulled off a wonder save from a free kick by the No.6 to deny Downpatrick.
Going forward the speed and guile of Sherry Hyland and McNally had the Downpatrick defence breathing heavily.
Half time 1-0
The second half started how the first half ended with the home side on top but Downpatrick started to get into the game and created a few chances to the worry of the Colts defence.
Then the unfortunate Sweeney who blocked a shot with his back was given a penalty against him to the amazement of both teams on and off the pitch. Hand ball ?
It was a real scratch your head moment.
Downpatrick despatched the penalty to make it 1-1.
The Colts never dropped their heads and continued using the speed of Hyland Sherry and McNally and it wasn't long before Sherry combined with McNally who scored his second to restore the home sides lead 2-1.
Then the moment of the match arrived, Turkington played a 50 yard pass to Brownlee who controlled the ball brilliantly and passed it across goal into McDonnell who slotted it past the Downpatrick keeper to secure a famous win against a 1A opponent to move into round 2 of The Clarence Cup.
MOTM: Sherry
McCann, Sweeney, McDonnell, Turkington, Bracken, Hyland, McNally, McBride, Murphy, Sherry, Brownlee
Subs: Duncan, McColgan, Mulholland