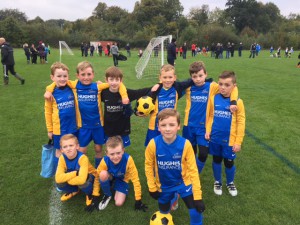 What a performance from the Carryduff 08 boys !! 
On Saturday 15th October the boys totally outplayed an outstanding Glendowan team who have always been the toughest team that the boys have ever faced. 
Luke S was unbelievable in nets – his shotstopping skills and bravery in coming out and taking the ball from the feet of the Glendowan strikers was top class. This was his best ever performance for the Colts. The Glendowan strikers only managed to beat him once all game !!!
Danny, Ciaran and Ben were simply brilliant in defence!
Ciaran had an amazing game today with boundless energy up and down the right wing leading to so many attacks, the best of which was his determination to skip past 3 Glendowan players on the right wing and cross for Jack who had broke through the middle to finish off an outstanding counter attack!
Ben had an absolute blinder of a game against a very skillfull and fast Glendowan striker and his determination and speed to break up so many attacks was brilliant. 
Danny was our defensive rock as always. The Glendowan strikers couldn't find a way past Danny who was simply too quick and too strong in the tackle.  He would stop attack after attack and distribute the ball to his defensive partners Ciaran on the right and Ben on the left to counter attack up the wings. 
Jack and Owen are forming an unbelievable midfield partnership. From the off the two boys set the tone for the team putting relentless pressure on the Glendowan team who couldn't handle the two boys energy and pressing off the ball. 
Jack had another great game as the holding midfielder – his ability, energy and determination to win the ball, break up Glendowan attacks, track back and help the defence and counter attack was superb and he capped a fine performance with a great goal and an assist for Owen. 
Owen was a joy to watch today. Skill, determination, speed, strength – two amazing goals. What a performance, one that he should be very proud of!
Liam, Rhys and Wiktor were brilliant leading the Carryduff attacks.
Liam's speed and strength gave the Glendowan defenders all sorts of problems all game. He produced an all action and determined strikers performance today, tested the keeper many times, hit the post  and capped it off with a brilliant solo effort to score!
Rhys tackled and pressed from the front putting the Glendowan defenders under pressure and preventing them from attacking and was unlucky not to get on the score sheet with two great efforts. 
Wiktor was all over the pitch – in defence, in midfield and in attack. He was a real team player today covering every position and played really well, setting Owen up for one of his goals. 
Overall – this was the best performance from the boys this year – absolutely superb !!  Well done boys !!