In an absolutely cracking game of football at Hillsborough Boys Indoor Arena, Carryduff came away with a hard fought victory over a very strong and skillfull Hillsborough Boys team.
Carryduff started the game very brightly, continuing with the same tempo that we have been working on over recent weeks and with Jack and Rhys in particular pressing the Hillsborough boys defenders relentlessly, it was only a matter of time before they forced an error and Jack opened the scoring with a well taken goal.
Ben and Danny were up against it in defence with the Hillsborough team coming back into the game but Danny and Ben stood firm. Danny was absolutely top class as always in winning every tackle and standing strong against tough opposition. Ben once again was excellent in reading the game and his speed allowed him to intercept the Hillsborough forwards and break away to set up Rhys and Jack to launch a few Carryduff attacks. It wasn't long before Rhys got on the scoresheet with a superb shot into the bottom corner after a lovely pass from Ben.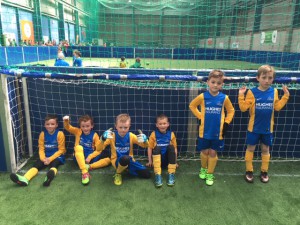 The Hillsborough boys pulled a few goals back after some lovely skill and finishes but Owen started to dominate the midfield, winning the ball and driving forward at every opportunity and it wasn't long before Carryduff added another after an excellent finish from Rhys.
In the second and third period both teams played as if this was a cup final! It was an absolutely fantastic game of football with tough tacking, passing and moving, outstanding goals and skill and brilliant goalkeeping from both keepers.
Ciaran was making a major impact on the game with some great runs up the right wing and scored a thunderbolt which flew in to the top corner leaving the Hillsborough keeper with no chance.
Hillsborough started to really drive forward at every opportunity and were shooting from all over the pitch but the goalkeeping display from Jack in the second and third period was absolutely outstanding!
Danny was absolutely unbelievable in defence – he won every tackle in the game and not one of the Hillsborough players got past him the entire game! His ability to make the tackle and win the ball is second to none!
Ben had another great game – his speed and awareness of the game is really strong and he was breaking out of defence at every opportunity, often setting up many of our attacks. And his tenacity to win the ball was superb in breaking up many Hillsborough attacks.
Ciaran was tough tackling and in the mood for goals! Whilst he played most of the game in defence, he took every opportunity at driving up the right wing and shooting – scoring a rocket, hitting the crossbar and denied by a brilliant Hillsborough keeper on many occasions.
Owen was all over the pitch – defending, tacking, attacking and really being the midfield presence in the team. His passing today was brilliant and his awareness to set up Rhys was great.
Rhys was on fire today! He scored some fantastic goals, particularly one with the outside of his right foot that curled into the top corner! And his pressing game and high tempo was top class. A superb performance!
And Jack put in the goalkeeping performance of the season in the second and third periods – he stopped wave after wave of Hillsborough attacks with brilliant saves – the Hillsborough boys just couldn't score past him!
The coaches and parents from both teams commented on what a great game of football it was !!
Super proud of the boys !! Well done.