A comfortable 3-0 win for Carryduff Colts over Mourne Rovers and a 3-2 for title rivals Ballyvea on Saturday takes the NADAFL Premier League title to the wire next week.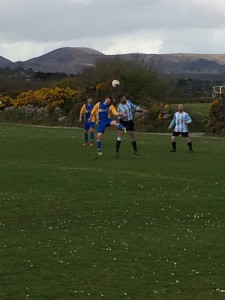 Ballyvea travel to Annalong on Thursday, who are still in the hunt, and anything but a win will leave Colts in pole position with Mourne Rovers again coming to Lough Moss next Saturday for the final game of the season
Rovers were intent on spoiling the game from the first minute with tactics involving using only one match ball and hiding the others and feigning injury to waste time and it was a poor spectacle but Colts produced a professional-like throughout to secure the points.
They took the lead on the 20th minute when striker Sean Irwin was brought down in the box and Stevie Doherty cooly slotted home the penalty for the opening goal.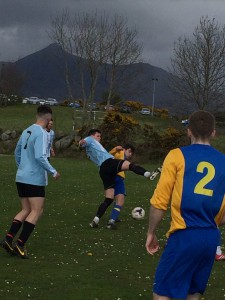 Mourne Rovers had a couple of decent players and one of them slalomed     through the Colts defence before firing in a good shot that Odhran Devlin     did really well to hold on to in the Colts net.
  Darragh Brownlee was pulling the strings and set up a number of chances for the hard working Irwin,    Doherty and Fergus McBride, who made a number of lung busting runs into the Mourne box, but they were   unable to add to their lead.
 Rovers approach got even worse in the second half but Colts refused to be riled by their antics and kept  plugging away with Sparky Hegney, Joe Sweeney, Paul Murphy and Rory McDonnell making sure that they  didn't get a sniff of goal at the other end.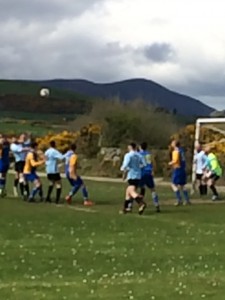 Colts introduced Calum McSorley to add a bit of pace to team and soon after they nearly added a second when a brilliant volley by Kealan Devlin narrowly missed the target.
But it was only a matter of time until the second came and the ball broke to skipper McDonnell on the edge of the box and he fired home the second, although Paul Maguire also had a claims the ball seemed to come off his heel.
Michael Deeny and Arron Waddell were also introduced midway through the half and almost opened up Rovers straight away when Deeny's slide rule pass found Waddell but was blown up for offside when he was clearly on.
The third goal then arrived when McSorley found Waddell on the right and moved to get on the end of his cross but the ball ended up in the back of the net for a deserved strike for young Arron who has been a hugely important member of the squad all season.
Now it's down to nail biting on Thursday with the prospect of the Colts lifting the trophy at Lough Moss in Saturday if results go our way.
Colts: O.Devlin, Sweeney, Murphy (McSorley), McDonnell, Hegney, McBride, Maguire (Deeny), K.Devlin, Irwin (Waddell) Doherty, Brownlee