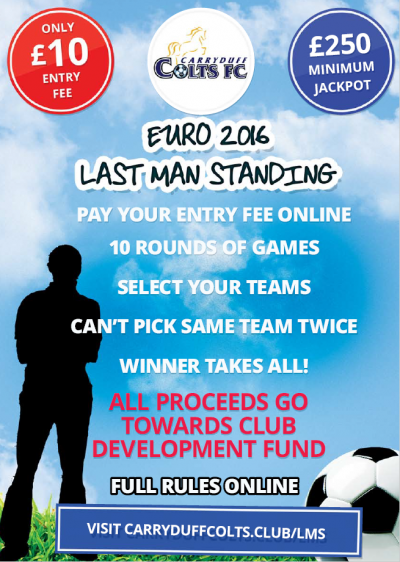 What is a Last Man Standing Competition?
It's a competition where you pick a series of teams to win football matches during the Euro 2016 finals in France. You pay a single entry fee, but can win a guaranteed prize of £250.
I'm not sure what you mean. Tell me how it works.
Let's run through an example. Davy picks France to beat Romania. If France win he goes through, but he won't be able to pick France again. Damian picks Ukraine to beat Germany, but it's a draw so Damian is out.
The competition continues until everyone goes out and the prize goes to the last remaining person – The "Last Man Standing".
Why should I play?
Well, we thought it would be appropriate for members of a football club to play a football game. And all of the money raised goes towards a good cause – the continued development of Carryduff Colts, which we want to sit at the heart of the Carryduff Community. And it's fun!
What can I win?
The Last Man (or Lady) standing wins £250! There is a guaranteed winner.
How do I play?
Click the Enter Now button below, select your teams and enter your payment details and you will get an email confirmation of your entry. Then check back here and on our Facebook and Twitter pages from 10th June to see who is still in and who is out.
Rules
1. Pay your entry fee (£10) online by credit or debit card — no need to pay again. The winning prize is £250.
2. Euro 2016 is broken into 10 rounds of last man standing. To play simply pick ONE team to win in each round. You can't pick the same team twice.
3. If any of your picks fail to win you're out of the competition.
4. You must make your first 6 picks now. You will be contacted to make picks for the remaining four rounds if you make it that far.
5. If you make it through to the final, you will be asked to make predictions for the time of the first goal (up to 120 minutes) and number of corners. This should ensure we have a winner at the end of the match.
6. Player Names and Team selections will be published on the Carryduff Colts website and social media accounts.
7. If you make an invalid pick (e.g picked a team twice), or fail to make a pick before the start of the next round, you will be allocated the first available team in alphabetical order.
8. All players must be over the age of 18 years. Proof of age may be required before any winnings are made. In the event of a winning player not being over the age of 18 years, their entry will be rescinded and/or considered null and void and their entry fee will be reimbursed.
9. You can enter as many times as you like on our website – you will be allocated an entry number for each registration and will receive confirmation by email. If you like you can differentiate each entry by using a Team Nickname.
10. In the event a match is cancelled, abandoned or postponed, you are automatically put through to the next round.
11. Entries are invalid until all monies are paid in full.
12. The organising committee retain their right to amend these rules during the competition. All decisions made by the committee are final.
13. If you have any questions about the competition, please contact info@carryduffcolts.club.