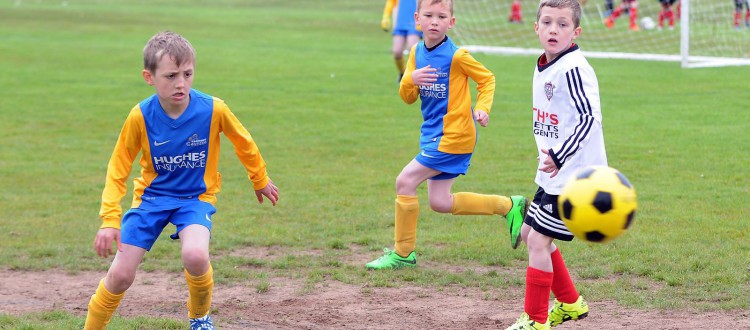 Carryduff Colts Cross Community Cup
On Saturday 28th May Carryduff Colts hosted the second annual mini-soccer Cross Community Cup. Over the past few weeks there has been much preparation going on in the background to organise the competition and this preparation paid off with a competition that ran smoothly from start to finish.
We would like to thank all the sponsors involved – Hughes Insurance, Newberry Pharmacy Carryduff, KBS Systems, Ten Square Hotel and Four Winds Kids Club, without whom we wouldn't be able to run competitions like this at all.
To all the participating team coaches who showed up on the day, thank you for playing and organising your teams in the most sporting way.
To all the children who played, it was fantastic to see the talent, skill and determination of all the children involved – 28 teams played in the morning, and 20 teams in the afternoon which meant over 100 matches were played between 9.30am and 5.30pm. Our competition is designed to give success to children of all footballing abilities, not just the elite, and it was great to see some epic matches being played out. This year we were just edged out in 5 finals, but tournament success is just around the corner.
Most of all, as a growing football club, we would like to thank all the volunteers who helped out on the day – the parents, coaches and volunteers are the lifeblood of a club like Carryduff Colts and the sense of community spirit was evident from start to finish.  If we didn't have volunteers there to help get set up, referee, register teams, cook sausages, carry tables, mark out pitches, pick up rubbish, collate scores, dismantle goalposts and more, it would have been impossible to run to such a high standard. If you would like to volunteer to help out in any capacity next season, please do so here – we are always looking for volunteers who can help out in any way. Next year we hope to run a bigger and better competition.
Finally, the Euros are less than 2 weeks away. Have you entered our Last Man Standing Competition yet – you can win £250? Click here for details.
Cross Community Cup Results 2016
2008 Grass
2008 Astro
2006 Grass
Cup
Winners – Ballywalter
Runners Up – Plunketts
Winners – Crumlin
Runners Up – Crusaders
Winners – Killyleagh
Runners Up – Celtic Boys
Shield
Winners – Hillsborough Boys
Runners Up – Dungoyne
Winners – Ballywalter Colts
Runners Up – Carryduff Jets
Winners – Celtic Boys Colts
Runners Up – Carryduff Lions
Plate
Winners – Rosario
Runners Up – Carryduff Colts
N/A
Winners – St Marys Colts
Runners Up – Carryduff Tigers
Bowl
Winners – Blackstaff
Runners Up – Killyleagh
N/A
Winners – Glenavy Youth
Runners Up – Carryduff Jets