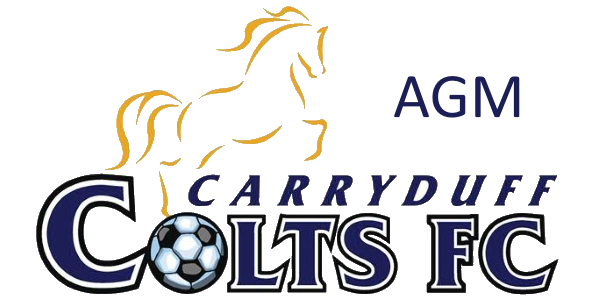 Colts AGM appoints office bearers for new season and highlights progress
A year of significant progress was highlighted at the Annual General Meeting of Carryduff Colts held at Cooke Rugby Club on Monday, 28 June.
It was the 12th AGM the club has held and a number of existing officers were returned to their positions while some new posts were created to fulfill additional requirement of the club.
Re-elected were chairman Eamon Deeny, vice chairman and director of football Jake McKeown, Vice chairman and Treasurer Nigel Turkington, secretary Davy Neeson and welfare officers Pat Neeson and Fionnuala Collins.
Gary Wilson was appointed Procurement Officer to co-ordinate purchase of kits and equipment, Kevin O'Toole was welcomed back to the club as fundraising officer, Stevie McArdle was appointed head of the burgeoning girls section and Frankie McClure took over as chair of mini-soccer.
For the first time the club appointed Brian Illand in the role of Communications Officer and his work to date in developing a number of exciting new features on the website was highlighted as one of the key developments of the season.
The club's intent to potentially secure its own home ground was also emphasised with the appointment of Brian McDowell as Project Officer.
The meeting heard that work was ongoing in regard to the pitch while a tentative agreement had been reached with Cooke in relation to becoming a partner at their excellent facilities at Shaw's Bridge, with the potential of a home ground for the senior and SBYL teams.
Nigel Turkington reported the club's best ever financial performance and his role not just in terms of finance but also the other work he does as well as leading the Under-16s to the club's first ever SBYL cup win were highlighted, as was the work of Jake McKeown, Davy Neeson, Pat Neeson and Fionnuala Collins in ensuring the club is administered in a much more co-ordinated way.
A number of senior players attended the meeting and the way in which they could help out with younger age groups and the need to get more support for the senior teams on Saturday afternoons were also discussed.
It was also agreed for the first time to have player representatives on the committee and Fergus McBride and Michael Deeny were appointed.
To view a complete list of Office Bearers and Head Coaches for each year group, click the buttons below.