End of an era as Michael says adieu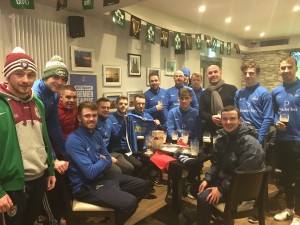 Michael Deeny, who is one of only two players at the club to have played in Carryduff Colts' first ever game in 2003, played his final game on Saturday before moving to London to take up a new job.
Aged just nine years old, he took his place alongside Niall McArdle in the under-10 SBYL team that suffered a heavy defeat by Bloomfield almost 15 years ago.
Michael has played at every age group with the club and for the past five years has played senior football and been with the first team for the past four seasons as an accomplished midfielder with his passing ability as his greatest strength.
He was part of the Seconds team that won the Division Three title in the Newcastle League and last year was part of the Firsts that narrowly missed out on winning the Premier League title.
He won Players Player of the Year both at underage and senior level and was in the first ever Colts team to win a trophy when they won in a cup final in Ayr a number of years ago.
His team mates signed his usual number 8 shirt on Saturday after the game and he was delighted to bow out with a 2-0 which keeps his team in title contention for NIAFL 2c.
Carryduff Colts wish Michael every success for his new life and career in London and hope we will see him back in the club's colours some time in the future.