The Parador Hotel, which provides food for our senior players every Saturday, handed over a set of tops on Saturday for all senior players to wear to and from games.
Hotel Manager Peter Murray presented them to first team manager Eamon Deeny on behalf of proprietor Paul Blaney.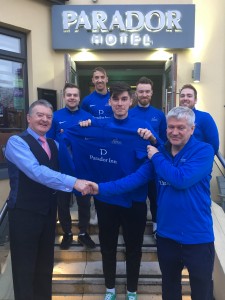 Deeny said: "Thanks to coach Hugh McNally, we have built up a strong relationship with the Parador over the past two seasons. They have provided us for facilities for awards nights and Christmasu dinners, as well as the excellent food they give us after games on Saturdays.
"We are delighted with the investment the Parador has made in us with the new tops and our relationship will go from strength to strength. We encourage all members of the club to show their appreciation of the support by dropping in anytime they're in the local area!"