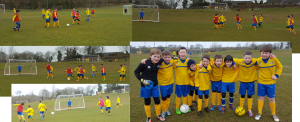 It was derby time at 9:30am Saturday in Loughmoss. The Tigers took on the Jets. It was a close contest which went right down to literally the last kick of the game.
The Jets got the match started and were quickly on the attack. The Tigers soaked up quite a bit of pressure, and with a combination of good defending, good goalkeeping and a few wide shots the match remained at a stalemate. It was then the turn for the Tigers to go on the attack. Greater pressure was applied by the Tigers and eventually with a run from midfield the stalemate was ended with the Tigers successfully breaking through the Jets defensive.
The Tigers started the second period and it was very much end-to-end with chances at both ends. Again, the goalkeepers and defenders at both ends were at the top of their game preventing further scoring from either team until close to the end of the second period. Once again the stalemate was broken by a surging run from midfield by the Tigers, beating the final defender and goalkeeper with a cool finish.
Into the last third and whatever the Jets manager said seemed to do the trick. The Jets spent the majority of the last third camped in the Tigers half. The pressure eventually led to a couple of scores which made the game all square. Then it was into the dying seconds, the Jets were awarded a corner. From the corner the Tigers failed to clear the ball from the penalty area and the ball ended up over the line. The goal proved to be the winning score as time was called immediately after the restart.
It was jubilation for the Jets and bitter disappointment for the Tigers as they felt the pain of such a last second loss. So its back to training on Friday and I'm sure all the boys will be telling their sides of the story of the match.
Tigers: Andrew, Darragh, Jack, Ronan, Finn, Callum, Fionn, Christian, Peter
Jets: Cillian, Jake, Owen, Jason, Timothy, JP, Tom, Michael, Jack