On Saturday 5th March, Carryduff Colts 2008s played a strong Blackstaff team at the Ballyoran 3G pitch, but proved that they were a match for them with a never give up attitude.
Blackstaff came out very strong initially and after a slow start in the first period, the Colts team suddenly kicked into gear in the second period. Wiktor was instrumental in motivating his team mates at the first break, reminding that they have come back from being behind before in previous weeks, and sure enough the Colts did this again.
Wiktor and Rhys again showed great awareness of each other up front and started scoring goals and looking out for each other, and very soon the goals were mounting up again once more. Only for the excellent Blackstaff keeper, they would have surely have scored at lot more. Rhys never gave up and kept testing the Blackstaff goalkeeper who had his hands full.
Cal came out of goals after the first period and showed his prowess with some sublime step-overs and dribbling once again. Luke and Lewis played defensively in the second period but showed their versatility in the third period when they both pushed up front and both scored some rocket-style goals that the Blackstaff keeper had no chance with.
Wiktor went into goals in the third period and he proved that he can play in any position with some outstanding goalkeeping and saves. Oisin ran every blade of grass and kept tackling back to make it as hard as possible for the tricky and skillful Blackstaff forwards.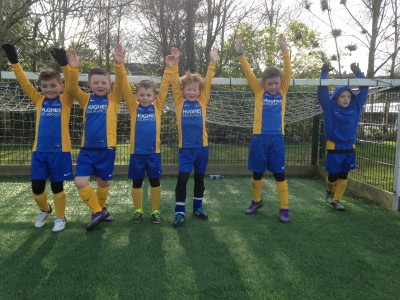 This was a tough game for the Colts, but the team showed tremendous character. Well done to all involved and thanks to the Blackstaff team for a very sporting match – clearly a good team to watch.