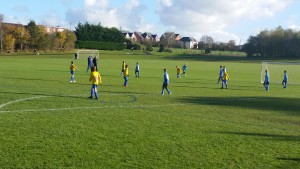 Carryduff 2007s simply don't do boring. Once again a very entertaining game against a very, very good Clonduff side. 
The Carryduff management fielded a very strong team with the brave and talented Rory in nets, always strong and calm under pressure Jude and Harry, with Dan and his silky skills in midfield alongside the hardworking Eoin. Back, bombing down the left wing was speedster Will, and whizzing down the right was the fantastic Josh. Up front, the always clinical Cain and powerful Oisin.
Up against a powerful Clonduff side who raced to take a 2 nil lead, soon to be pegged back after a clever pass from Eoin to set up Cain who finished well. A near identical goal followed with Josh slipping Cain in for  his second to make the scores even. Clonduff soon regained their lead leaving the boys in yellow wondering what they needed to do . 
A superb solo run by Oisin and a powerful finish got the brave boys back on level terms, soon to followed by a superb strike from long range on his weak foot by Eoin to take the lead. Further pressure resulted in a penalty and a second goal for Oisin. Carryduff were unlucky not to add more with great efforts from Will and Dan. At the other end Rory, Jude and Harry looked comfortable with everything thrown at them. 
A superbly exciting game, played in good spirit by two excellent teams. Very enjoyable to watch. Well done again.