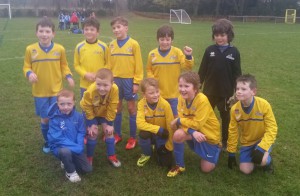 This was the last game before the Christmas break and our Carryduff little lions were up against a strong physical skilful Dungoyne team . Our previous meeting ended in a hard fought draw. The Carryduff management knew that this would be no walk in the park, however from the start it was obvious there would only be one winner in this contest.
From the outset Carryduff looked up for the game with high pressing, ferocious tackling and some really lovely passing when they won back the ball. Chances flowed with Cain dazzling on the left, Josh flying up the right and Oisin causing havoc up front finally paying off with a great strike and finish. Rory, in goal had little to do with Harry and Jude stopping everything thrown at them. Eoin and Dan in midfield alongside Will battled and harried allowing little time for Dungoyne to get in the game.
A fabulous header from Cain smashed under and off the crossbar to go 2 up, followed by team goal of the game expertly finished by Oisin for his second. Chances continued to be created with the woodwork rattled at least more times, and the pressure paid off with 2 fabulous efforts from the marauding Will.
A very enjoyable game to watch and a well deserved win. The progress and improvement Carryduff have shown is all down to the excellent coaching staff who I'm sure are so proud of this young teams' efforts. A nice way to end before Christmas!