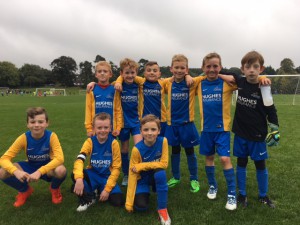 Carryduff 08's produced a superb performance against Lower Maze at Hydebank on Saturday 8th October 2016.
Luke S, Danny, Ben, Ciaran, Jack, Owen, Rhys, Liam and Wiktor showed great skill and real determination and effort today against a very strong Lower Maze team.
The boys started the match today with a 3-2-1 formation with Luke S in nets, Danny at the heart of defence flanked by Ciaran on the right and Ben on the left. Owen and Jack started as the two central midfielders with Rhys up front. 
The boys were up for this from the offset with Jack and Owen setting the tone for the team from midfield in the first few mins – both boys were all over the pitch, constantly pressing, tackling hard, winning the ball and breaking up play and driving the team forward. Both boys capped an outstanding all action performance with a goal each – Owen with a lovely low drive from distance which gave the keeper no chance and Jack with a great finish from a corner.  A brilliant midfield duo today!
Luke S in nets, Danny, Ben and Ciaran were brilliant in defence today. The boys stood tall against a very strong and fast Lower Maze team and didn't concede a goal all game!
Danny was a rock at the heart of the defence and made some very impressive headers out from corners and his composure in defence and ability to stand strong and not allow a Lower Maze player to get past him all game was outstanding. 
Ben's natural ability to read the game is excellent and his speed allowed him to not only defend excellently against a fast Lower Maze team but to break out of defence and counter attack throughout the game. 
Ciaran had another great game today. His determination and strength both on and off the ball was key to nearly all Carryduff attacks. He was up and down the right wing all game, set up a goal and got on the scoresheet after a fantastic move between Jack, Wiktor and Rhys. 
Rhys played as the lone striker from the start and his determination to defend from the front and put the Lower Maze defenders under pressure was fantastic! His fine pass through for Ciaran's goal showed great awareness. 
Wiktor played everywhere today – up front, midfield and in defence. His skill and pace on the ball is fantastic and he was very unlucky not to get on the scoresheet after a great run. 
Liam's determination and energy was instrumental in stopping the Lower Maze attackers when they had a period of possession – he played in defence and midfield and ensured that the boys stood strong under pressure. 
Overall, the coaches are really proud of the boys for their effort, skill, energy and determination – it was great to see!