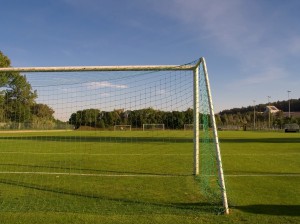 Carryduff Lions and Glenavy Youth provided a marvellous game of football to those watching on a beautiful morning at Lough Moss.
The goalkeepers for both teams starred in a game with plenty of exciting attacking football from both sides.
For the Lions Charlie gave a commanding performance both as goalkeeper and in defence while captain, Niall remained calm and assured at all times showing great determination in the tackle. Only superb defending from Cameron and smart goalkeeping from Charlie prevented Glenavy from scoring while superb goals from Dara, James and Noah secured the win for the Lions.
Peter was unlucky not to get on the score sheet with some fantastic shots that were either brilliantly saved or narrowly missed the target.
However the move of the game involved a smart interchange of passes from defence to attack involving Charlie, Niall, Peter, James, Noah and Dara who crossed the ball to Cameron but his fantastic header was somehow superbly saved by the Glenavy goalkeeper.
All credit to the Lions who showed great attitude and enthusiasm and to both teams who served up a feast of football which really was a joy to watch.