The 2007s played Rosario Colts this morning at the Lough Moss in what turned out to be an epic encounter against two well-matched sides.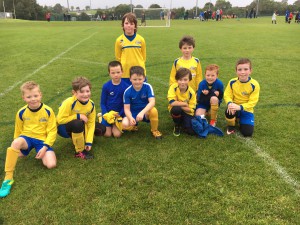 With Matthew in goals, Harvey and Noah started solidly in defence with Beau and Joseph showing some great awareness of the space they were in, providing each other with some lovely passing moves. The Colts were the stronger team in the first period with Finn having a solid game in midfield, but both teams finished the first period tired with no goals.
In the second period the Colts came out strongly again, with Oscar having a great game in defence, developing a great partnership with Noah. It wasn't long before a great passing move saw Oscar pass to Beau to pass to Harvey to score the first goal of the game.
The Colts kept defending well and limited Rosario's shooting to wides. Shortly after, on the break Joseph and Cain teamed well up front and Joseph scored a great goal to cement the Colts lead.
Rosario always put out strong teams and they came back strongly to get a goal back to finish the second period.
In the third period, Rosario kept pressing and with Harvey in goals organising Noah and Oscar at the back, Carryduff kept them at bay for a long period, but eventually Rosario got the equaliser they deserved.
The Colts however showed great determination and some great play by Harry helped them take command of the game. Joseph received the ball shortly past the half way line and took an amazing shot from long range which the Rosario keeper had no chance of saving – surely a contender for goal of the season! Matthew almost extended the Colts lead, but just hit the side netting.
With the clock running down, Rosario scored a final goal to level the score to ensure the match ended all square. Well done to Oscar, Matthew, Finn, Harvey, Harry, Beau, Cain, Noah, Joseph. A fantastic game for all involved.