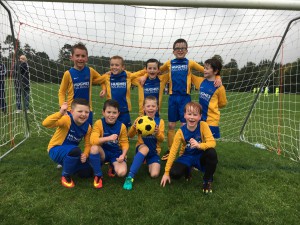 The 2008 Colts team played Ballyclare Colts in a very close game at Hydebank this morning.
Despite going a goal down within the first few minutes, the team showed great character to come back against a strong opposition to ultimately come out on top.
Oisin – Strong goalkeeping in the first half with good tackling in the second period.
Noah – Good tackling today from Noah, always pressing the opposition at every opportunity.
Cal – Ballyclare found Cal very hard to deal with and his decision making is improving every game.
Luke – A strong game in defence and midfield, always reliable.
Rafe – Man of the match. Played a blinder in defence and stopped numerous goal attempts for Ballyclare. Decision making in defence was second to none.
Lewis – Great tackling from Lewis, showed off some lovelt turns today in the final third of the pitch.
Eoin – So close with a goal attempt, showing great awareness of space and always tries to keep his head up.
Wiktor – Strong up front with a goal in the first half and a fantastic display in goals in the second period.
Oisin L – Tough tackling from Oisin today, great at holding opposition players off.
Thanks to Ballyclare for a very entertaining and sporting game which could have gone either way.