The Carryduff Colts 2008 team keep showing their improvement week on week with a game against Braniel Colts at a sunny but cold Knockbreda on Sat 9th February.
Noah, Luke, Wiktor, Oisin, Cal, Lewis and Liam were all in great form today. The Colts had a great start to the game and their excellent concentration, tackling and passing helped them to take an early lead against a battling Braniel team who never made things easy for the Colts.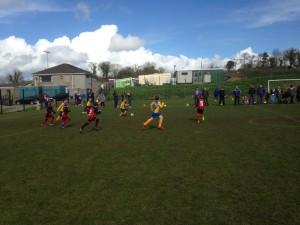 Liam proved again to be a strong tackler, however this week he also showed how he can string some fantastic passes together, passing the ball when his team mates are in a better position that he is. Lewis again showed his strength – had it not been for Lewis' concentration in defence Braniel would surely have scored many more goals.
This week Cal was a superb dead ball specialist, taking free kicks and kick-ins picking out his team mates with excellent precision. Noah and Luke, who are normally the rock in defence this week spent long periods playing up front and showed their versatility.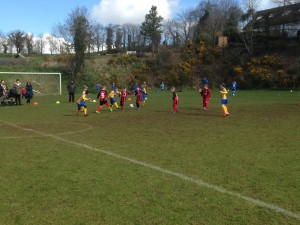 Wiktor was handed the team captain's armband and he performed captain's duties to perfection – talking to his team mates, ensuring that everyone was aware of what they should be doing. Oisin had a great game, this week having the confidence to take opposition players on and going on some great solo runs.
Well done to all involved today and special thanks to the Braniel Colts team – some great players on their team ensured a very competitive game. View some more action pictures from the game here.