Carryduff defeated a very physical and strong Dungoyne team in Ballyoran on Saturday 9th April 2016.
Dungoyne are a very good passing team and their technical ability on the ball is second to none but Carryduff played a high tempo pressing game which put Dungoyne under a lot of pressure and provided a number of scoring opportunities for the boys.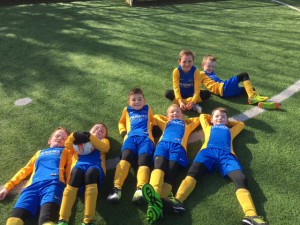 Ciaran, Danny and Ben were absolutely amazing in defence as always and stopped a number of goalscoring opportunities with some great defensive work. Danny also scored a goal from the halfway line which flew up and over the Dungoyne keeper and into the net. Ciaran also got on the scoresheet with a thunderbolt after a run up the wing.  And Ben's reading of the game and anticipation of when to step in and intercept the ball and break away from defence to set up his strikers is absolutely brilliant!
Owen dominated the midfield with a classic box to box performance – not only did he provide fantastic cover for his defenders, he pressed Dungoyne the entire game giving them no time on the ball and ended the game with a hat trick!
Rafe played the first period in nets and set the tone for the game with some brilliant saves to keep Dungoyne at bay. In the second and third period he played in midfield and attack and rounded off a great performance with a lovely goal which flew into the bottom corner giving the Dungoyne keeper no chance.
Jack and Rhys were absolutely brilliant today in attack – their pressing game was top class, defending from the front and winning the ball in many occasions which frustrated the Dungoyne team who couldn't get into their stride.  To see this commitment from our strikers was the most pleasing thing of all as it really sets the tempo for the team.  The boys also capped of a fine display bagging 5 goals between them!!
A fine win against a very good Dungoyne team – well done boys!