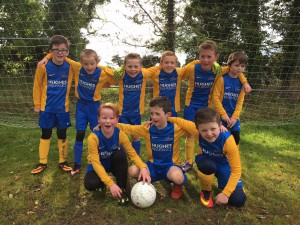 The 2008 Colts team played Lisburn Rangers at Knockbreda in a very entertaining game where there first two periods were very well matched, with the Colts getting more out of the match as the game went on.
Oisin – Scored a cracker after only 30 seconds and some great twists and turns. A strong game in goals in the second period.
Noah – Another strong performance and great communication with Luke, 2 great goals from long distance.
Eoin – A great display in midfield – never gave up and kept battling, chasing and tackling.
Aaron – Really enjoying his football at the minute. Played in midfield for much of the game but showed some strong defending in later parts of the game.
Lewis – Pressed the opposition repeatedly in their half and never gave up. A great battling performance.
Cal – Frighteningly good at beating men, twisting and turning, with pinpoint crosses into the box. A fantastic Messi-style goal with a drop of the shoulder to send the keeper the wrong way.
Luke – Strong and solid again – covered every blade of grass.
Rafe – Always reliable in midfield and covered for Noah and Luke in the later parts of the game – a great reader of the game.
Wiktor – Great awareness of the game again, passing with pinpoint accuracy as always.
Thanks to Lisburn Rangers for a very sporting game and the move and goal of the game in the dying minutes.
Well done to all involved! Some more photos below.