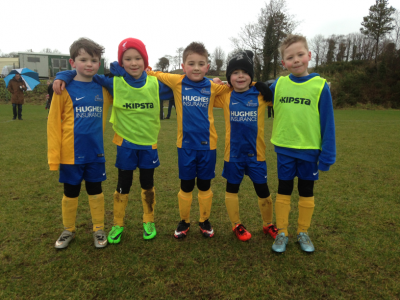 Carryduff Colts 2008s played an enthralling game against Braniel at the grass pitches at Knockbreda on the morning of Saturday 20th February 2016.
The Colts started in great form in the first period with Oisin strong in goals and Danny a rock in defence with some lovely passing between Rhys and Rafe combined with some impressive solo runs to give the Colts a quick 2 goal lead. 
Braniel came back strongly with some great play and things were even and on a knife edge going into the second period.
Carryduff kept pressing and in the second period had some great chances – the passing between Oscar and Rhys was a joy to behold with some nice quick first touch passing to get past the Braniel defence. Oisin came out of goals and his awareness was evident as he laid off pass after pass to Rhys with both players having multiple shots on goal saved by the strong Braniel keeper.
At the end of the second period the Colts had a dramatic few minutes. After giving away a penalty for handball in the box, Rafe steadied himself in goals and made a spectacular save to keep the Colts in the game. Even more impressive was how the team reacted to the penalty save, when they broke quickly from Rafe's save and sprinted up the pitch to score another goal!
In the third period, Rafe took Danny's place at the heart of the defence and Danny and Oisin shared goalkeeper duties. The final period was played predominantly in midfield and the Colts held out against a well organised Braniel team who wouldn't give up.
Overall an excellent performance from the kids and a match that was played in a great spirit. It is clearly evident the progress the Carryduff Colts teams are making week on week. Well done again!