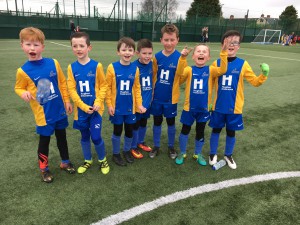 The 2008 Colts played an epic match against Crumlin at Lisburn Leisureplex on Saturday 11th Match. Everyone who watched it saw a fantastic Colts team again giving their all.
Player Profiles
Oisin L – Dependable as always at the back but his awareness of the game is improving and he is becoming more adventurous week by week.
Oisin I – Great passing this week which resulted in Colts first goal.
Noah – Got the first goal which really lifted the team and tirelessly battled throughout.
Rafe – Assured as a defender, but once again in goals some amazing saves in the air and on the ground in the final minutes.
Eoin – Some great one-twos with his team mates which opened up the game in places, Eoin works tirelessly throughout.
Luke M – Luke closes players down again and again making it difficult for the opposition to get past him.
Cal – Cal scored a fantastic free kick and will be giving Neymar lessons on how to take them soon!
Many thanks to Crumlin who also showed skill, determination and very sporting nature.