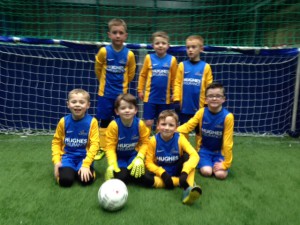 Carryduff Colts 2008s finished off the season in style on Saturday 28th November 2015, with a great display against Crumlin Colts at Hillsborough Boys Indoor Arena.
The Colts started slowly during the first period. Things were very even in the first 10 minutes with the match on a knife edge. Luke Martin took his debut in goals and had an excellent display and some very fine saves from a Crumlin team who started brightly.
Before the second period started again, coach Ciaran McKervey, who normally has little need for a hairdryer, gave the team the Alex Ferguson style hairdryer treatment and emphasised how they need to pass the ball better. This seemed to have the desired effect and the team improved dramatically in the second period. Wiktor, Noah, Oisin and Lewis chased hard up front and ensured that this period was mostly played in the Crumlin half, with Ben in goals at the back having little to test him.
In the third period, Ben came out of goals and combined well with Wiktor up front, who, sporting his brand new Colts Number 12 Jersey looked like he could score with every touch of the ball (and he often did).
Throughout all three periods Rafe in particular was assured at the back, kept the team organised and passed the ball magnificently. Well done Rafe!
A great end to the season, a great sporting effort from Crumlin Colts and now for some friendlies to look forward to now before the next season begins in 2016.