Carryduff Colts 2008s played an exciting match against a Glendowan team in Hillsborough Boys indoor Arena on Saturday 12th March 2008.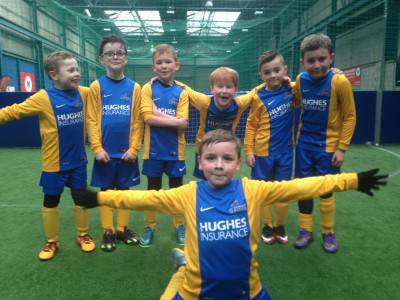 Oisin, Noah, Danny, Cal, Rhys, Luke, and Ben all played fantastically well and were more than a match for the Glendowan team who fielded a very strong side, perhaps the one of the strongest at this age group.
Cal had some great saves in the first period and his delivery as a goalkeeper was second to none. Danny was assurance personified as always and paired up very well in defence with Noah, who scored an amazing goal from the half way line.
Ben again showed his fantastic passing ability and is developing an good partnership with Rhys who seem to know where they are now without even looking!
Oisin had a particularly strong game outfield and his ball winning in the Glendown half and passing to Rhys and Cal was excellent. Cal tried his luck with some free kicks that the goalkeeper had to make some fingertip saves to keep out of the net.
Luke M played in defence for the majority of the match and showed how good he was at winning the ball and laying the ball off to the midfield.

This match was a great game to watch and one where the Colts stayed in touch right up until the last few minutes. Well done to the Colts – a great performance which they should all be proud of.