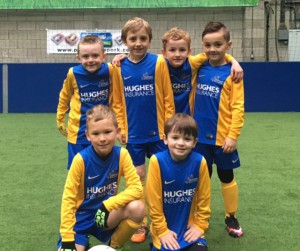 An absolutely fantastic performance from the boys today who displayed a level of football that can only be admired.
Right from the off the boys played at a relentless tempo, constantly pressing the Hillsborough boys when not in possession and were passing the ball around very confidently.
Owen opened the scoring with a great goal from a piece of great individual skill and soon made it 2-0 with another great finish.
Danny and Ciaran were absolutely unbelievable in defence and the Hillsborough boys couldn't find a way around  the defence and when they did Jack made a fantastic save pushing the ball around the post from a great shot from distance to keep the boys ahead.
Rafe added a few goals to push the boys further ahead and Rhys got on the scoresheet shortly after that with a few very skilful finishes.
In the next period, Jack showed some unbelievable skills to beat several players and scored a hat trick within a few minutes.
Rhys and Owen added to that to also get a hat trick.
It was a hat trick day all around as Rafe got in on the act shortly after that with another cool finish.
Danny and Ciaran were so cool, calm, composed and confident in defence throughout the game that Hillsborough couldn't simply get any rhythm going.  Ciaran scored a great goal and Danny also netted when both boys switched to play up front for the final third.
Overall, whilst the goals from the boys today were excellent – it was the manner in which they played which was most impressive – Jack and Rhys were relentless in defending from the front, Owen put in another box to box performance, Danny and Ciaran were outstanding in defence and Rafe covered every position seamlessly.
All the boys should be super proud of their efforts.