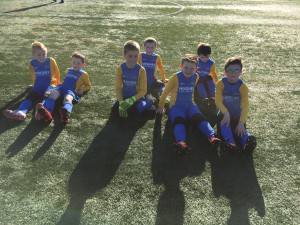 The 2008 Colts team played a thoroughly entertaining game against a strong Lisburn Distillery side today at Lisburn Leisureplex and the game was very evenly matched. Despite missing some key players, the Colts battled well throughout.
Lewis, Oisin, Noah, Rafe, Eoin, Wiktor and Luke started out strong against the Lisburn side and took the lead quickly with a wonder goal from Wiktor, who took the ball assuredly from well outside the box and hit a strong looping shot which the keeper had no chance of saving. Lisburn came back strongly in the first period to equalise, but some superb defending from Rafe kept the Carryduff team well in the game. Lewis went on a superb dribbling run on the right wing, to cut it across to Wiktor for another goal just before the end of the first period.
The second period was neck and neck all the way and both teams played a great game of football. With Rafe now in goals and Oisin in right midfield, chances came and went for both teams with Noah, Oisin and Eoin unlucky not to score. Lisburn Distillery had long periods of attack but some superb defending from Luke and Noah kept both teams in the game leaving it all to play for in the third period.
Lisburn came at the Colts with wave and wave of attack in the third period, but the Colts hit on the break, being unlucky not to score in the final minutes.
A tough game for the Colts from a strong Lisburn Distillery side, but an evenly matched game throughout.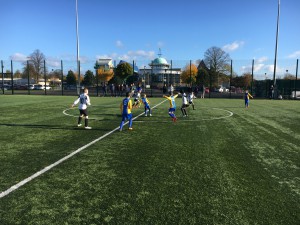 Lewis : Fantastic dribbling from Lewis, taking Cals place on the right wing this week.
Rafe : Assured and composed as always, great decision making at the back and talking to his team-mates.
Noah : Strong runs from Noah up the field with a feriocious left foot, unluck not to score.
Eoin : Improving positional play, some fantastic midfield runs with the only the keeper saving his shots on target.
Luke : Ran his heart out, fantastic workrate throughout all 3 periods with some brilliant saves in the third period.
Oisin : Strong taclking from Oisin, some good one-twos with Wiktor which created chances from midfield.
Wiktor : Another hat-trick from Wiktor, knows when to go for goal but also not afraid to track back and help out.
Man of the match : Tied with hat-trick Wiktor and Lewis.
Well done to all. Thanks to Lisburn Distillery for a great game.