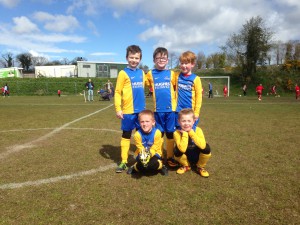 The 2008 Colts played a determined and battling Taughmonagh team this morning in a very entertaining game for all to see.
Oisin, Noah, Wiktor, Cal and Liam all started the match and with Luke and Lewis' unavailability this week, it meant that this famous five had to conserve their energy and keep their concentration as they had no breaks in all three periods.
Taughmonagh came at the Colts strongly in the first few minutes and the Colts found themselves two goals down after two minutes with some superb shooting and passing moves from the Taughmonagh team. However, the Colts knew that they have come back from bigger deficits in the past and they kept fighting and battling to make things equal before the first period finished.
In the second period the Colts really started to gel. Cal showed some great awareness of empty spaces on the pitch to win the ball and to beat men before looking up and passing the ball, which set up Oisin for an easy tap in. Liam scored a goal from outside the box which can only be described as a rocket, which the Taughmonagh goalkeeper had no chance of stopping. Wiktor again showed that he never stops in a game, continually pressing opposing players and not giving them a minute on the ball. On one occassion Wiktor was instrumental in a 5 consecutive passing move between himself, Cal and Liam which ended up in the back of the net.
In the third period, this week's captain Noah moved from his usual defensive role to a more adventurous attacking role and really amazed with a few solo runs, using inside cuts and outside cut turns to send the opposition the wrong way before unleashing some more powerful shots on goal.
The Colts had a lot of defending to do in the third period and somehow they managed to deny Taughmonagh again and again. At one stage the Colts broke up the pitch to win a corner which Cal scored directly from!
A great display from the Colts and this is surely a team who never knows when to give up. Well done to all involved including the Taughmonagh team for a great game.