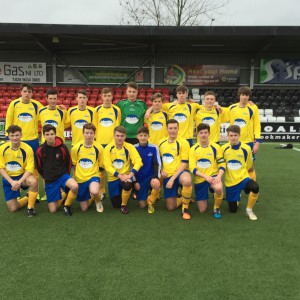 The Colts travelled to Seaview to play top of the league Woodvale in the 2015/16 supplementary cup final. The two teams had met in a league game only four weeks ago, with the Colts badly depleted due to injuries and players unavailable on the day taking a very heavy beating, the score that day 8-2 to Woodvale, so the Colts went into the game as the underdogs.
The Colts where at full strength today with a fit and healthy 17 players turning out for duty , the Colts lined out with a 4-4-2 formation and Woodvale knew after a few minutes that this was a different Colts team to that they had played a few weeks ago.
The Colts dominated the first half in terms of chances and deservedly went in front after twenty five minutes, a free kick twenty five yards out from Gerard Smyth was too hot to handle for the Woodvale keeper as it flew in past him 1-0 Colts. The Colts defence of Nelson, McManus, Marken and Gillan where all on top form. The midfield of Deery, Neill, Smyth and Waddell were all competing well with their opposite numbers.
After 35 minutes the Colts went 2-0 up, captain Crawford danced round two defenders to fire in the second from 8 yards out, Woodvale pulled one back just before halftime to leave the colts going in 2-1 at the break.
Woodvale started the second half on the front foot, they created several chances but the Colts keeper Tim Larmour was in excellent form and made three top class saves to deny them. After the initial onslaught the Colts settled down and created a few chances of their own with Owen McCabe going close on a few occasions. As the clock ticked down both teams emptied their benches, Walker, Linden, Elliot, Van Merkom and Crompton all coming on and playing their parts in what was a memorable day for this group of players and the management team.
The game ended with the score line as it was as half time, 2-1 to the Colts.
Team- Larmour, Nelson, (Crompton) McManus, Marken, Gillan,(Van Merkom), Deery, (Walker), Neill, Smyth, Waddell, (Linden),(Elliot), McCabe, Crawford.
Sub not used -Roberts