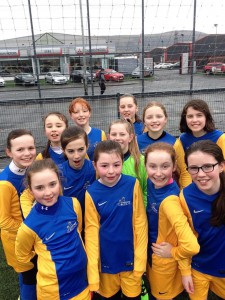 This week saw the Carryduff Ladies play their 6th game in the SBYL, their opponents were Carnmoney FDC.
The game started with 2 quick goals inside the first 5 minutes, unfortunately both were scored by Carnmoney. However these 2 goals only served to give the girls determination as they started to get to grips with their opponents quick start. The rest of the first half saw plenty of chances at both ends, with several chances for the Carryduff girls coming from great attacking link up play which has been on show over the last few weeks.
At the other end there was several good saves by the Carryduff Ladies keepers as the half finished 2-0 to Carnmoney. These included a really great stop from a powerful Carmoney shot that looked like it was heading for the top corner.
The 2nd half started with another early goal for the opponents which again saw the girls respond by creating multiple chances for themselves only to be thwarted by the defenders blocks and fine saves from the Carnmoney keeper. Mid way through the second half the girls had a sustained period of pressure on their opponents goal which brought a number of shots and corners for the Carryduff girls.
From 1 of these corners Carnmoney managed to break up the pitch quickly to get another goal.  Even though another couple of goals were conceded late on the Carryduff girls kept trying to play the football they have been showing over the last few games and with a bit more luck could have got themselves a goal near the end.
The squad for todays game was;
Aime, Niamh T , Maeve, Aoibhin, Katie, Ciara McG, Ciara I, Cara-Beth, Teenie, Niamh LS, Christine & Laoise