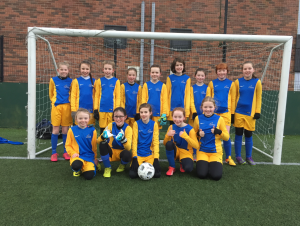 Today was the first all-girls match-up for Carryduff Ladies and despite conceding experience and size to Carnmoney, the girls battled hard to register a well deserved draw.
On an odd, square shaped pitch at Hanwood, chances were few and far between with the two teams cancelling each-other out in a congested midfield. When Carnmoney did create a rare chance our defense kept their concentration superbly to record our first ever clean sheet!
Thanks to all parents who came up to give their support on a cold (and early) morning and hopefully we will see all the girls at training on Wednesday night!