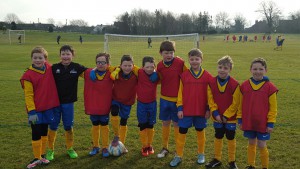 On a sunny but cold Saturday morning the 2006 Tigers took on the 2006 Colts. In a hotly anticipated contest the Colts team got us kicked off at 9:30. It was a match that had nice touches of skill and some amazing goals.
Over the first period the Colts showed the more co-ordinated attacking skills and moved into a commanding lead by the end of the first period. The Colts were helped by some strong individual performances and very quick counter-attacking, which often caught the Tigers outnumbered at the back.
The second period was a much closer encounter with more end to end activity. However it did take some great goal keeping from the Tigers keeper to keep a number of good shots from the Colts out.
The final period was also a close affair with chances at both ends for both teams. Both teams had a number of corners and near misses.
In the end it was a clear win for the Colts who were the better team on the day, with the Tigers unfortunately having a bit of an off day. The match was played in a friendly manner and both teams showed the utmost respect for each other and it was good to see smiles on faces at the end.
Tigers: Andrew, Darragh, Jack, Ronan, Finn, Callum, Fionn, Christian, Peter, Patrick
Colts: Max, Ben, Dylan, David, Cutty, Patrick H, Patrick McC, Jamie, Callum