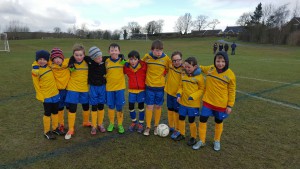 The Tigers took on Dromara Village at 10:30am on Saturday 5th of March at Loughmoss. This is the second time that the Tigers played against Dromara Village this season so we knew it was going to be a very stiff contest.
The Tigers got the first period of the game kicked off and it was a fairly even contest. Dromara Village did edge it in terms of more chances and went into the second period a single goal up. The Tigers performed much better than the previous week in terms of keeping their shape and working hard for each other with some nice passing out of the defence and indeed it was unlucky that the teams did not end the period drawn with a shot coming off the inside of the post and running tantalizingly across the front of the goal line before being cleared.
A lapse of concentration at the start of the second period saw Dromara Village score a couple of goals in as many minutes. However, the Tigers defence sorted themselves out and shut down any further chances. The rest of the period was a much more even affair with chances at both ends.
It was into the final period when the Tigers came under a lot of pressure again. They soaked up a lot of the Dromara attacks and had some countering opportunities themselves but in the end the pressure proved too much and another couple of goals managed to get through the committed defending.
The boys should be very proud of themselves. Since these 2 teams last met the difference in quality between the teams has greatly reduced. The Tigers have certainly developed their skills and experience since that first meeting. This time they produced a much more cohesive and mature display, working very hard for one another, they were unlucky not to get some more goals for their efforts. However, the boys came away smiling so the primary goal of enjoying themselves was accomplished.
Tigers: Andrew, Darragh, Jack, Ronan, Finn, Callum, Fionn, Christian, Peter, Patrick