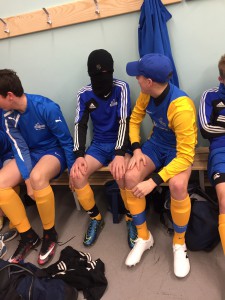 The U16's turned out in a very windy night in Holywood, 55mph winds and rain!
The lads faced into the gale during the first half and passed the ball around really well, but with just 10 minutes gone they lost passion and Holywood worked a great counter attack on the right squaring the ball for their striker to tap in 1:0 down! But the lads put their training into place, and keeper Eoin Maguire who was kicking into the wind tremendously well caught his studs in the 3G surface and twisted his ankle……a substitution we didn't think we needed to make, and Simon Turkington took up the gloves and continued with excellent kicking into the gale.
With about 10 minutes left in first half and Colts pushing for an equaliser the lads won another corner, and yet again a move straight off the training ground found the excellent Jonny Wilson who smashed the ball from 20 yards which was really well saved by the Holywood keeper, but the energetic Donal Healy was first to react and tucked the ball into the net, 1:1.
The second half had the gale at the Colts back, and they had 90% of the play, with the superb Rory Reilly having a few long rang free kicks and corners well saved by the Holywood keeper. The Colts kept pushing with Michael Lawson hitting the bar and a very brave header from Tommy Connery being saved too. Stand in keeper Simon almost scored from his own box when his clearance just cleared the Holywood bar, showing how strong the gale force wind was. The Colts had a great should for a penalty as one of the Holywood defenders lent into the ball, but it wasn't to be.
Very frustrating draw for the lads, but it keeps them as the on,y unbeaten team in the Premier section and still well in contention.
Result: 1:1
Scorer: Donal Healy
Man of The Match: Rory Rielly.