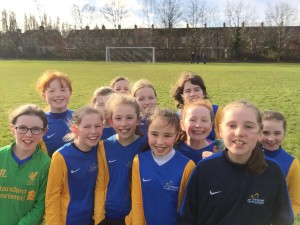 Having recorded their first win last week against Rosario Ladies, Carryduff returned to Ulidia hoping to repeat the feat against the Rosario boys.
The game was another cracker with endless chances created at both ends. The girls played some great football from the first whistle and forced an early save from the goalkeeper before deservedly taking the lead against a shell-shocked Rosario.
Carryduff were unlucky not to extend their lead when the ball hit the net following a fantastic team move on the counter-attack only to be ruled out for offside. The girls were made to pay when Rosario equalized shortly after, very much against the run of play.
The Ladies remained composed and soon regained the lead with a lovely finish with the outside of the boot past the oncoming Rosario keeper. The girls continued to play their football and pressed for more goals, but were caught on the break by Rosario in a rare defensive lapse, and like last week the game was tied 2-2 at half time.
The girls charged out of the blocks again in the second half and soon won a penalty for a handball in the box. The Rosario keeper was relieved to see the ball struck wide of the post, but the relief was temporary and he was soon picking the ball out of his net when Carryduff scored from the resulting goal kick!
Rosario scored a spectacular long range equalizer to draw level and the game continued to swing from end to end. But try as they might, Carryduff could not find the net again while Rosario seemed to score each time they attacked. The game finished with Rosario winning by a comfortable margin that didn't really reflect the effort and  superb football on display by the girls.
It's easy to be biased when writing reports for your team, but today I feel no guilt given the lavish compliments from Rosario coaches, referees and spectators at the final whistle who were all very impressed with the girls play.
The positives this week were 3 goals scored for the second week in a row (the most this season so far against a boys team), the never say die attitude – despite being well behind at the end of the game the girls kept pressing forward and playing their football, and the work rate  with everyone battling hard to win the ball back all game – a great habit to have!
Well done to all the kids – see you at training on Wednesday night!!
The squad this wee was Aime, Niamh T,  Maeve, Katy, Ciara N, Ciara I, Sian, Cara-Beth, Tinnie, Niamh L, Christina and Laoise