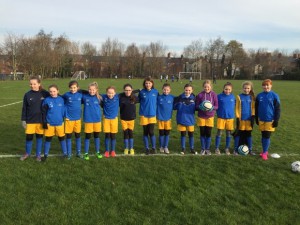 Week 4 of the Ladies SBYL journey produced an epic battle with local rivals Rosario Ladies at Ulidia Playing fields.
The game plan was to get off to a fast start, so Carryduff lined up with an attacking 3-4-1 formation for the first time this season.
The midfield 4 were dominant in the early stages and the Ladies raced into a two goal lead with just 10 minutes played.
Rosario showed their experience and didn't panic, striking back with a brilliant solo effort from their left winger before drawing level with a superb goal which hit the net via the inside of the post.
Carryduff had several other chances to score before the break including one superb header which flew just wide of the post, but the half-time whistle blew with the teams tied in an enthralling battle.
The second half picked up where the first half finished with an exciting end to end game, but Carryduff were creating the better chances and soon took the lead with a neat finish from a well worked throw in.
More chances followed but the girls couldn't put the finishing touch to some exciting build up play. Rosario were always in the game however and struck back to level the score once again. The match continued to flow from end to end with Carryduff creating plenty of chances before finally re-taking the lead with an excellent left foot finish from the edge of the box.
With 20 minutes still to play the Ladies switched back to 4 in defence to protect their lead but Rosario looked likely to equalise when they burst through 1v1 only to see their goal bound effort blocked superbly by the oncoming Carryduff goalkeeper.
From then on the Ladies defended superbly to keep out Rosario and even struck the bar with a nice counter attack move.
The final whistle went with Carryduff Ladies edging the win in a seven goal thriller to record their first ever victory!
Huge credit to Rosario for their part in a really enjoyable game and for kindly moving the kickoff forward so several Carryduff players could make it to a cross county event at Stormont.
Well done girls on another terrific team performance – two left foot goals, one left foot assist, more fantastic teamwork and some crucial saves from the keepers – see you all at training on Wednesday!
The squad for today was:
Aime, Niamh T, Maeve, Aoibhin, Katie, Ciara M, Ciara I, Sian, Cara-Beth, Tinnie, Niamh L, Christina and Laoise.