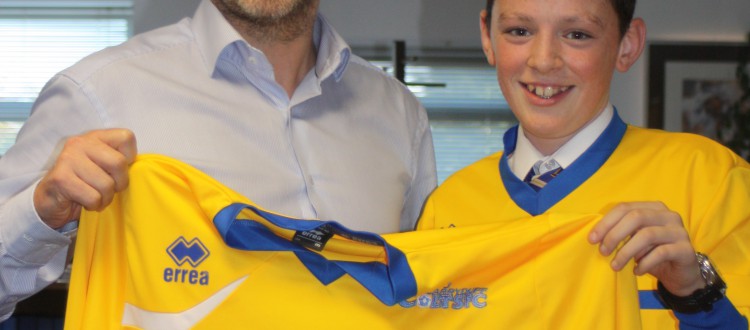 Focus On – Eoin McGlennon
Each week, we will pick a player (or manager) to ask some searching questions about themselves, football and other things
Eoin McGlennon (U15s)
What football team do you support?
Manchester United
Why did you start supporting them?
My brothers and granda supported them
Secret favourite other team
Watford
Current favourite player?
Anthony Martial
All-time favourite player?
Pele
Earliest memory of football?
Playing five aside when Debra coached us at Billy Neill
Favourite pre-match meal?
Weetabix
Favourite post-match meal?
Fry
Best goal you ever saw?
David Beckham goal from the half way line
Best Colts match you played in?
When I scored two corners from the corner spot in nine a side
Best Colts goal
When I nut meged two men and then nut meged the keeper in 5 a side
Favourite Carryduff Colts moment
Drawing with the A team in Ayr
Best achievement in football?
Getting players player of the year two years in a row
Biggest disappointment in football?
Losing 3-2 to Oliver Plunkets
Favourite pitch to play on?
Billy Neill
Who do you think will win Euro 2016?
Republic of Ireland
Favourite song?
Glory
Person you'd most like to meet?
Barrack Obama
Most difficult opponent (Carryduff Colts)
Leo McMahon
Favourite training drill
Attackers vs defenders
Least favourite training drill
Running
Likes
Football
Dislikes
School
Favourite food
Pizza
Favourite TV show
Match of the Day
Favourite singer/band
Michael Jackson
Who do you think will win the premiership 2015/16
Manchester United
Favourite joke
Why did the chicken cross the road