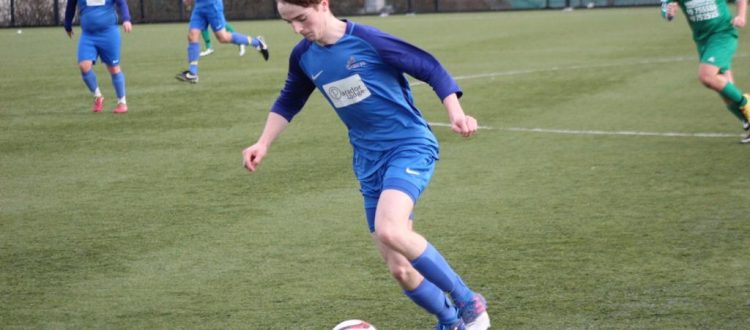 The Firsts lose out in a penalty shoot out in The Clarence Cup against St. Pats YM from 1A.
St.Pats YM (1A) 1 v 1 Carryduff Colts (2C) after extra time.
(St.Pats YM win 8-7 on Penalties)
It really was hard to believe which team was six divisions above the other as The Colts out fought and out played a 1A team in only there 2nd Season in The Amateur League.
The speed of Sherry and Mc Nally out on the wings left the St.Pats right and left back needing Paracetamol at half time. Sherry was causing havoc down the left and his cross should have been put away by Irwin who had it taken off is toe by a former Cliftonville defender Brannigan.
Mc Nally was sent down the right by Cassidy on more than one occasion and the winger should have scored but it was one of those days for the speedy winger who had the left back on Toast all day.
Cassidy in only his second game back after breaking his cheekbone in three places was immense along with Doherty in midfield who both controlled the game in the first half which some how finished 0-0 considering the chance The Colts had with Irwin, Mc Nally and Brownlee coming so close to opening the score and considering Sweeney, Devlin, McDonnell (The Skipper) and Murphy had reduced the St.Pats forward line to 2 long range shots against McCann who was smoking a Cuban Cigar for 45 minutes was hard to believe.
We knew St.Pats would come out more determined in the 2nd half and we had to be patient and bide our time against a team 6 Divisions above use, but unfortunately with their best chance of the game they had a free kick after 70 minutes which big Mc Cann saved well but it spilled out of his hands and one of their players luckily chested it in to the net, game on.
That was the red rag for The Colts to move up a gear and again chances came and went from Mc Nally, Brownlee, Sherry and Irwin. The Colts to their credit kept playing the football that has seen them reach the last 16 of The Junior Shield with their never say die attitude and with 10 minutes to go Brownlee had to come off injured and The Big Easy (John Henry) entered the scene and showed his class both in the air and with his feet and it was from a corner with 5 minutes to go that The Big Easy flicked on a corner from Sherry and somehow it made its way to Irwin who volleyed into the roof of the net to level the game 1-1. After the goal the St.Pats sub decided to call the referee a cheating bounder and they were reduced to 10 men.
With seconds to go Sherry crossed another corner in from the left and Devlin nearly won it with a header across the goal only for the left back to clear off the line, 90 minutes up, extra time prevailed.
In the 20 minutes of extra time both teams huffed and puffed but to no effect as St.Pats sat back and defended well to see the game out due to the man less they had. Even though The Colts did not want penalties they had to accept that was what was happening and the left back Murphy who had run his socks off after being in bed all week with a chest infection came off for Holden so he could take a penalty if required.
As for the penalty shoot out and to be honest it was one of the best I've seen, sadly The Colts lost 8-7 in a true thriller but I feel it better not to mention who scored and who the unfortunate lad was that missed because that is unfair because penalties are a lottery but what I do want to say is that Myself and John are so proud of every single player on that pitch and this club is going places if we all stick together.
Thank you to The Parador for after match hospitality.
McCann, Sweeney, McDonnell, Devlin, Murphy (Holden), McNally, Cassidy, Doherty, Sherry, Irwin (Henry) Brownlee, Mullholland.