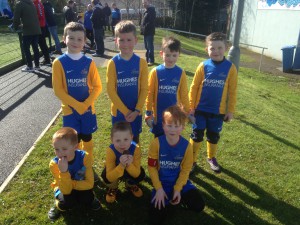 The 2008 Colts were back in action today against Dungoyne at the Ballyoran 3G – this week they were unfortunately minus their left footed wonder Noah, but still managed to put on a good display, especially in the later stages.
Rafe, Cal, Oisin, Luke, Wiktor, Lewis and Liam took all to the field in the first period though they had a slow start. Dungoyne are a surely one of the best passing teams at this level and it took most of the first period before the Colts started to find their way. Wiktor, Liam and Luke all tested the Dungoyne keeper in the first period but their keeper had to make some fantastic saves to keep the Colts shots out.
Only for Rafe's superb last man defending the Dungoyne team would surely have scored more.
The second period was a different game however, when the Colts finally started to get back into the game. Cal came out of goals and started to beat men with some fancy footwork and stepovers and Dungoyne found him hard to handle. Wiktor, Liam and Luke both started taking more attempts on goal, this time with much more success with some superb strikes into the corner of the net.
Lewis and Luke played very strong games, turning defence into attack very quickly on numerous occasions.
The third period was an even stronger one for the Colts again. Oisin and Lewis paired up well together at the front and you could sense the confidence was coming back into the team.
Ultimately Dungoyne proved to be a tough test for the Colts today, however most important at this level of football is that they kept on trying and didn't let their heads go down – they learned from their mistakes at the start and then really made a match of it. Thanks to Dungoyne and well done to all involved.
Thanks to Wiktor's Dad again for the photos below. Get well soon Noah!