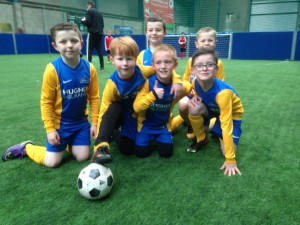 The 2008 Colts team played Andersonstown Celtic today – today was a silent Saturday – this gives the chance for the kids to play with freedom and to make their own decisions – and mistakes! It also gives the players more responsibility for their own game. It highlights to both coaches and spectators the kind of information the players might need on the pitch and help them focus on that for future games.
One thing very noticeable with the silent atmosphere with was how the entire team is improving at communicating with each other – Noah, Liam, Cal, Oisin, Lewis and Wiktor all calling each others names, talking to each other and keeping their heads up when on the ball.
Today Liam was team captain and he settled into the role very well, playing in all positions from defence to attack. Noah and Lewis both had spells in goal today and did fantastically well. When they came out of goals they showed their strength in holding off opponents when on the ball and scored some great goals between them. Cal and Wiktor who naturally like to get forward also played as a team and covered back whenever they could. Oisin this week showed his improvement in chasing down opposing team members and never giving up.
Another good week for the Colts and a week that everyone got on the scoresheet with some fantastic passing and one-twos in periods. Great teamwork!
Thanks to Andersonstown Celtic for a great game played in the right spirit – some great talent on show there too and they really made a game of it as the game went on, especially in a very tight third period.