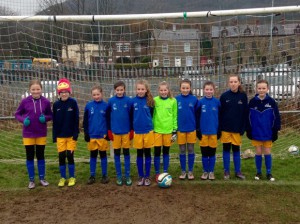 At the end of 2015 the Carryduff Ladies' coaches decided to move the girls from the IFA mini-soccer league to the SBYL mini-soccer league to help them get used to playing full rules in preparation for league football next year.
The first few weeks of the transition have been difficult. Goalkeepers now have to take kick-outs rather than throwing and there is no longer a 'free touch' for full backs. Referees rule the game rather than coaches (who are often more generous in awarding fouls) and players are now blown-up for offsides and foul throws.
The new rules mean the girls have had to take a lot on board over a very short time and a period of adaption was not unexpected – hence the decision to do so this year rather than next.
This week was the first week the girls have looked relaxed and the result was a return to the fantastic football they often played in the IFA games before the turn of the year.
Although the game was won by Whitehead Eagles, much of the better football was played by the Ladies, as was graciously acknowledged by the Whitehead coach at the final whistle.
In defence, we were sharp and strong in the tackle and never afraid to look for a pass rather than just clear our lines. Our full backs were full of running, overlapping at every opportunity but quick to get back in defence when moves broke down. The midfield and strikers worked hard to deny their opponents time on the ball and always looked to play the simple pass and keep possession – it really was a joy to watch at times!
As a result, the girls actually created more chances in this game than the first two combined and on another day could easily have been worthy victors.
We had a number of 1 v 1 situations that were either blocked at the last second or were fired just wide of the goal. The Whitehead goalkeeper dealt well with several shots we placed on target but could only stand and watch as we hit the crossbar twice in the first half including one fantastic effort by our marauding fullback on her 'weaker' foot!
So despite a narrow defeat there were many positives to take away from this game. The teamwork, the passing, the chances created, the overlapping attacks. There were also a few headers today and many instances of girls using their 'weaker' foot (or other good foot as I like to call it) Hopefully the girls will build on this over the next few weeks and fortune will favour us in front of goal!
See you all at training on Wednesday night!
Thanks to all the parents who came along today – I wish I'd taken a pic of you all wedged into that tiny wee shelter!
The squad for today was: Amie, Niambh T, Aoibhin, Katie, Ciara M, Ciara I, Sian, Tinnie, Christina and Niamh LS