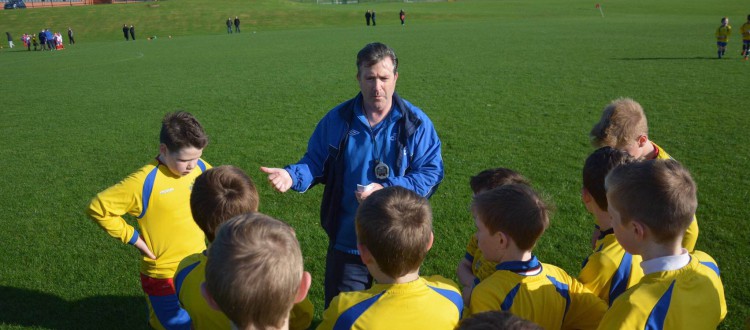 Coach Education – Damian Doran completes UEFA B Licence Part 1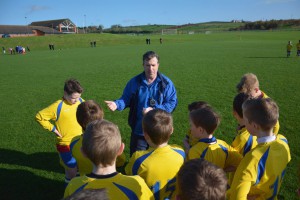 Carryduff Colts has an ongoing commitment to coach education and each year fully funds or part funds both new volunteers and existing coaches in completing accredited IFA training courses. Such courses include the IFA Grassroots course, Level One Coaching and the UEFA B Licence.
In April 2016 our 2003 year group coach Damian Doran was awarded his UEFA 'B' Licence Part One and joins the ranks of our elite coaches. Here, Damian answers some questions about the B Licence course.
Why did you decide to do this course?
I don't come from a footballing background and only got involved in the Carryduff Colts as there was a severe lack of coaches for the team my son was involved in back in 2011/12. Initially I had little confidence to help out as I had no technical knowledge of the game other than watching on TV, so I put myself forward for the Level 1 course. I found that quite a nerve-racking experience having 2 left feet (and both of them rubbish!), but I soon settled in and it was quickly emphasised that we were not being tested on our ability to play, but on how we could coach a chosen topic. I was overjoyed to pass at the first attempt, and in fact was delighted to be given an excellent pass score and did much better than all the 'more qualified' people on my course.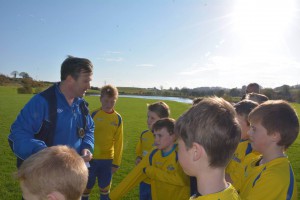 I coached the 2003 Colts team from 7 aside, through 9 aside and now into the 11 aside format in the South Belfast Youth League. In our 9 aside year in the league we made it to the final of the Challenge Cup, but unfortunately were beaten at the final hurdle, but the boys were elated to receive beautiful runners-up medals and quite a stunning Cup as beaten finalists.
However, over the few years, I have become more aware that we were all qualified to the same level, and our opinions on direction and training style varied somewhat. I would ask coaches who I thought had better understanding of the game for advice, and quite often there would be conflicting advice and opinions! How could I possibly confidently coach these boys if I wasn't suitably confident in the advice I was being given?!
Last September by chance I found I was unable to work for medical reasons and quickly decided to see if there was a Level 2 course available. Fortunately there was one running a month later and I managed to book the last place available. I was unfit for work, but I had signed up to do this course.. The irony!!!
What is the format of the course? How long does the course last?
The Level 2 (now known as the UEFA B Licence Part 1) is quite an undertaking. The Course commences on a Sunday morning and runs right through to the following Sunday, with the Saturday off as most candidates are involved in Saturday club matches. The days are very long, commencing at 9:00am and running through until 9:00pm.
The morning starts with a brief introduction to the topics for the day, then out onto the training ground for group warm-up exercises and then into the coaching sessions. The IFA course tutors will set up the sessions and select players to partake in the demonstration. They will stop and start the session to highlight what we should be looking for, how to spot good and bad practice, how to correct and how to provide options for the players. Next it's down to the candidates to set up their own session while the tutors watch and offer advice as we coach and intervene.
After a break for lunch, (and a much needed rest!) it's on to the afternoon sessions, with the topics becoming more complex and detailed as the days go on. The format continues with a demonstration from the tutors and then us amateurs trying to replicate what we've seen and learned.
After dinner, it's into the classroom for evening lectures on topics ranging from player fitness and conditioning, through to health and nutrition, and the laws of the game ("That was never offside!")
There are 3 practical assessments to be completed during the week, the final one being the all-important assessment towards the award of the B1 Licence.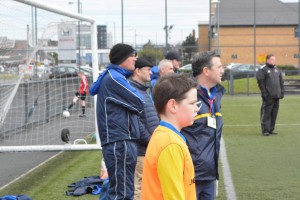 Is there a big jump between Level One and the UEFA B Licence?
YES!… although I knew it was going to be a huge step up from my Level 1 Course!
At Level 1 we were basically just given a drill to prepare and we had to do it to a fairly good standard. At this level though, it becomes much more challenging, having to take a 4v4 session, watch it and analyse it and know when to quickly intervene to highlight a relevant coaching point. The hardest part is being able to stop the players and then move everyone back 2 or 3 passes to where it all began. Believe me, it's much harder than you can imagine… next time you are watching a kid's game, pick a moment in your mind to freeze the play, and then think where were each of those 8 players 30 seconds ago? It's not easy!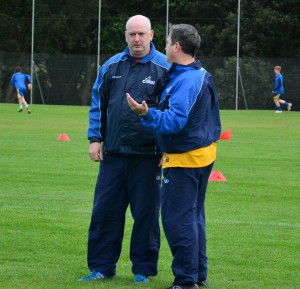 Now you have to point out why you stopped the play. "What were you doing?", "What could you have done?", "What other options were available to you?". Next you want to either correct a mistake or highlight several options which may have occurred instead and start asking "What would you do if…?", all the time moving 8 players around the pitch for different scenarios.
It is important though, to try not to overload with information or provide a lecture, rather 'Paint a Picture' in the mind of the player so that the next time they come across a similar situation they will already be thinking of options.
What were the most challenging parts of the course?
By the end of the week, walking was the most challenging part! It is a very strenuous course, very tiring both physically and definitely mentally. I did find it a massive step up from Level 1, and the fact that it takes place over a full week means there is little time to recover from any strains and knocks, and sleep was the goal each day as I drove home!
How difficult is the course – what is the pass rate?
The first-time pass rate is actually very low. On my course, there were only 6 passes out of 24 participants! (I heard just yesterday that the last B1 course had only 4 passes out of 40!).
While it is disappointing (maybe even a little embarrassing) not to get a first-time pass, it soon became apparent that this was the norm, and when I saw the standard of other 'fellow-failures' I realised I was in good company. (When you see one of the most-decorated footballers from the Irish League failing at the same topic as yourself, you know you're in for a tough day!)
There are reassessments done a couple of times a year, and as it turned out I was not going to be available on the date of the organised re-test, but that was not an issue as I was able to arrange for an assessor to come out to my own Colts training session. I was told the topic I was being assessed on (Principles of Defence AGAIN, the hardest topic!). Then I was told the assessor who was going to be watching me… He had failed every one of his candidates on my course! Not ideal to build your confidence! I tried to set aside 20 minutes in each of my weekly sessions for a little practice, and I must now add a very huge 'Thank you' to our local IFA Grassroots officer, Phil Melville, who agreed to come out and watch me taking a practice session and help me with some pointers for my actual assessment. I can honestly say that his help was invaluable!
What is the next step after completing this course?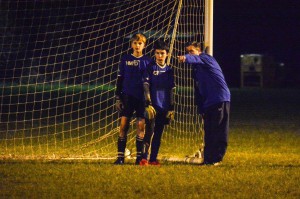 If interested, the next step is the UEFA B Part 2, but at this stage, I have no inclination to go any further (despite my assessor seriously telling me I should consider it as he really liked my approach to coaching and my dedication to getting it right for the benefit of the children). The B1 is seen as the first rung on the professional ladder and I am only interested in helping the Carryduff Colts in the South Belfast League.
Would you recommend it? If so, who to?
I would definitely recommend the course for anyone who wants to further their knowledge, understanding and confidence at this level. There is only so much that you can gain from reading books and manuals (I know.. I've spent a fortune on them over the last few years!).
I would love to see every year group at Carryduff having 1 or 2 UEFA B qualified coaches. It wouldn't be long seeing a change in coaching style with hopefully big improvements on the pitch close behind.