Coach Education – Colts Level One Coaching Success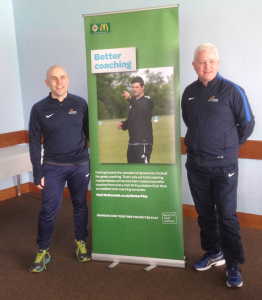 Following on from Damian Doran completing his B Licence Part One at the start of the month, 2008 coach Brian Illand and 2006 coach Michael Cunningham completed both their Grassroots and Level 1 Coaching awards at the end of April 2016.
Carryduff Colts has an ongoing commitment to coach education and each year fully funds or part funds both new volunteers and existing coaches in completing accredited IFA training courses. Such courses include the IFA Grassroots course, Level One Coaching and the UEFA B Licence.
The Grassroots course is a course aimed at volunteers, parents, teachers, and aspiring or existing coaches working in the area of Grassroots Football with children between the ages of 5 – 12. The Grassroots course is 3 hours in duration, with both theoretical and practical content, and must be completed before the Level One course.
The Level One award is a 3 day course which, on this occasion, was conducted over 3 consecutive Sundays in April at the Lough Moss Centre. During this month's Level One course, there were 19 coaches participating from clubs all across the Belfast area all being assessed on areas such as coaching Ball Mastery and Control, Defending, Movement, Awareness, Passing / Receiving and Turning. The course was run by the IFA local Lisburn and Castlereagh grassroots development officer Phil Melville.
Both courses are very practical in nature, with most of the time being spent on the training ground playing and coaching. For the Level One course, there is an additional need to complete online coursework at home between sessions. To complete the course, each coach must :
Complete a Player Development Task
Complete a Coach Development Task (Practical and theoretical)
Complete a 3 hour football specific First Aid workshop
Complete an online Safeguarding Children and Young People in Football workshop
Pass an online nutrition Course
Upload two one hour sessions onto the Irish FA online platform, one of which will be your practical assessment.
Pass the practical assessment.
Congratulations to all involved on a very successful and well run IFA course.