Glory night for Fergus who takes top prizes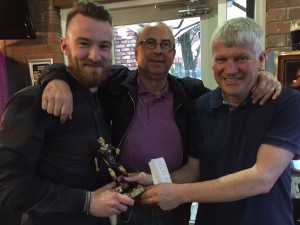 Midfield dynamo Fergus McBride was crowned Carryduff Colts senior Player of the Year and also picked up the accolade of Players' Player of the Year at the annual awards last weekend.
It was an amazing achievement for Fergus who only joined the club this season but has made a huge and immediate impact with players, management and everyone else connected with the club.
A former Northern Ireland schoolboy international, his presence has lifted the seniors to a new level and with a team with an average age of around 21-years-old, the club has a bright future in senior football ahead.
Fergus said: "I am really pleased to get these awards both from the managers and most importantly from the players, it is always a great to get recognised by your peers.
"I didn't know most of my team mates before the start of the season but now we are a really tight group who socialise together as well as colleagues on a Saturday. I have had a great and enjoyable first season with the club and can honestly say I have enjoyed my football more than at any other time – and I genuinely can't wait until next season starts.
"I truly believe this team is going places and it is only a matter of time until we are claiming silverware, having reaching a cup semi-final this year and matching all our opponents during the course of the season."
Manager Eamon Deeny paid tribute to Fergus and said: "Being such a young team, you have to find other ways of making up for lack of experience. With his drive, enthusiasm and the way he protects his teams-mates when the going gets tough, Fergus has filled that role for this year in a hugely successful.
"He could probably play for any club of his choice so we are delighted that he is staying with us next season and will the focal point for our team along with a few others who also are crucial to any future success we might have.
"We had a good strong start to the season but faded after Christmas time, much of which is down to youth and lack of experience and also our inability to turn long periods of domination in games to goals – that is something we will try to rectify next season.
"I look forward to next season and hope we get persuade kids and parents across the club to come out on a Saturday afternoon to support the seniors as we strive to put ourselves on the map at senior level the same way as we have achieved it at under-age football."
18year-old James Erne's fantastic first season at senior level was marked with him claiming the top goal scorers' award while Chris Curran got a special award for his service to the club as he leaves to embark on a career in medicine in England.
Eoin Doherty also attended the event to collect his top scorer award for the Seconds, with Aodhan McManus and jack Crompton picking up the Players' Player Awards and Player of the Year award.